Single phase isolating switch 11kV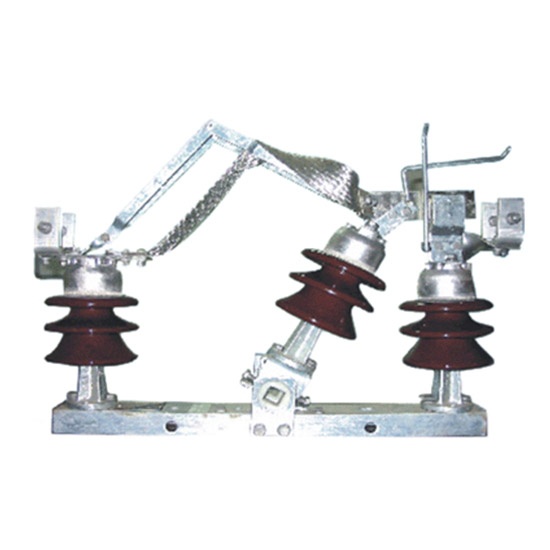 IS-11 Outdoor Isolating Switch 200/400/630A

The IS-11 Outdoor Isolating Switch are meet for outdoor application and are suitable for horizontal or vertical mounting. They are designed for satisfactory performance in harsh atmospheric conditions of high/low temperatures & humidity. Their primary function is to isolate a 11 kV, 415 V, 3 Phase network.

Features:
Single break type with 3 post insulators per pole.Can be used for Single or three phase applications and suitable for operation on structures upto 6 meters or more above ground level.Robust sturdy design with bottom MS channel of adequate dimensions which imparts requisite strength.Copper contacts are made of ETP grade high conductivity copper and are spring loaded for adequate contact pressure. The contacts are duly plated to improve resistance to corrosion and offers a low resistance current path.The Post insulators are with min. creepage distance of 320mm suitable for heavily
polluted atmosphere and meets the stringent requirements of IS 2544 with Malleable or Cast iron pedestals as per client requirements.
Technical Particulars:

| | |
| --- | --- |
| RATED VOLTAGE | 11 kV |
| RATED CONTINUOUS CURRENT | 200/400/630A AMPS |
| NO.OF POLES | 1 / 3 |
| TYPE OF MOUNTING | VERTICAL / HORIZONTAL |
| RATED FREQUENCY | 50 Hz |
| POWER FREQUENCY WITHSTAND VOLTAGE ACROSS ISOLATING | 32 KV |
| DISTANCE. | 28 KV |
| POWER FREQUENCY WITHSTAND VOLTAGE TO EARTH | 85KV PEAK |
| LIGHTENING IMPULSE VOLTAGE WITHSTAND TEST ACROSS THE ISOLATING DISTANCE. | 75 KV |
| RATED SHORT TIME & PEAK WITHSTAND CURRENT | 20kA / 50kA FOR 1SECOND |
Self lubricating central bush bearing allows easy operation.All MS parts and Hardware are duly hot dip galvanized as per standard specifications which imparts long life to the switch.Braided or PVC Copper wire of adequate cross section is provided as per rating of the IS-11 Outdoor Isolating switch depending upon customer requirements.The Isolator is capable of withstanding the electrical & mechanical stresses induced during unlikely event of a short circuit.Sturdy operating mechanism is provided allowing easy operation 6 meters above ground level with simultaneous operation of all the three poles making perfect electrical contact. Mechanical locking facility is provided for closed & open positions as required.The operating Gl pipe provided along with the switch conforms to Medium Class as per IS 1239-1 and is 6000 mm in length.A choice of terminations can be provided to suit individual customer requirements.