Automatic Line Splice For ACSR Conductors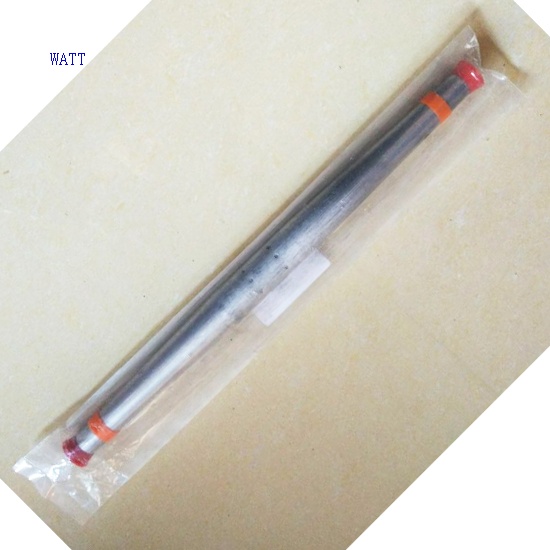 AUTOMATIC LINE SPLICE FOR ACSR CONDUCTORS
1. SCOPE
This standard establishes the physical and dimensional requirements of full –tension
automatic line splices which are used to splice aluminum conductors (ACSR, AAC, AAC) on
the REB 50 Hz electric distribution system.
2. GENERAL
The automatic line splices furnished to REB specifications shall conform in all respects to the
design and performance requirements of this standard. Each automatic line splice shall be
chamfered at the ends to permit insertion of the conductor and to provide a gradual
reduction of stress on the conductor. There shall be included on each splice expendable
color–coded end caps to provide positive conductor size identification and to prevent the
entrance of dirt into the splice. The ultimate strength of automatic line splice shall be a
minimum of 90% of the ultimate strength of the conductor with which it is used. Also to be
integral parts of each splice are guide caps to confine conductor strands for easy insertion
and complete entry of the conductor into the jaws. The automatic line splice shall be of such
construction as to facilitate conductor removal. The text figures and references to other
standards compliment each other and are considered part of this standard.
3. MATERIAL
The automatic line splice sleeve and jaws shall be made of aluminum or aluminum alloy of a
grade and quality suitable for this application. The resistance of the automatic line splice
shall be equal to or les than the resistance of an equal length of the aluminum conductor
with which it is to be used.
4. FINISH
REB full-tension automatic line splices shall have smooth surfaces free from irregularities or
imperfections not consistent with good commercial practice. Each automatic line splice shall
bear the manufacturers mark or identification symbol, conductor size and catalog number.
This data shall be present in a manner and location, which does not impair the function of
the automatic splice.