400A Pole Mounted Fuse Cut Out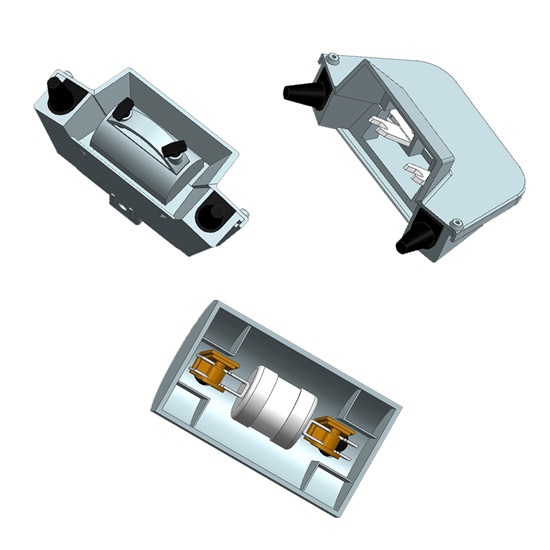 400A Pole Mounted Fused Cut-out
The Watt electric,Industry-Standard design, 400A rated fused Cut-out Designed with ease of use and simplicity in mind, this pole mountable fused Cut-out is the ideal method of providing rural dwellings with a safe,protected and reliable Low Voltage power supply.
Manufactured By resistant grade of Glass Re-inforced Polyester, this fused Cut-out is unobtrusive in appearance and vandal resistant, when compared to many of the more traditional materials such as porcelain. Each fused Cut-out has fuse contacts and cable terminal plates which are manufactured from copper and bright tinned. These plate incorporate M12 captive studs with nuts and washers for the reception of cable sockets (lugs) up to 300mm2 (*compression type only at 300mm2) with copper or aluminium conductors.For ease of mounting to either a wall or a wooden pole, the fused Cut-out is supplied with an M12 coach screw. For cross-arm type mounting the Fused Cut-out can be supplied with an M12 nut, bolt and washer
• Vandal resistant tough design.
• Slide fit front cover for ease of jointing.
• 'Easy fit' studs accept
cable sockets (lugs) up to *300mm2.
• Designed to accept standard 'J' type fuselinks.
• Fully compliant with the requirements of BS 7656: 1993
• Fully meeting the design criteria of IP43.
Note:
Stepped washers recommended if lug palm has hole 16mm or greater.
This fused Cut-out is designed to accommodate standard
wedge type fuselinks to BS88 Part 5: 1988. Tested and
approved for category of duty 415AC80.
Fixing centre requirement is 82mm.
Standard fuselink ratings range from 20 to 400A.